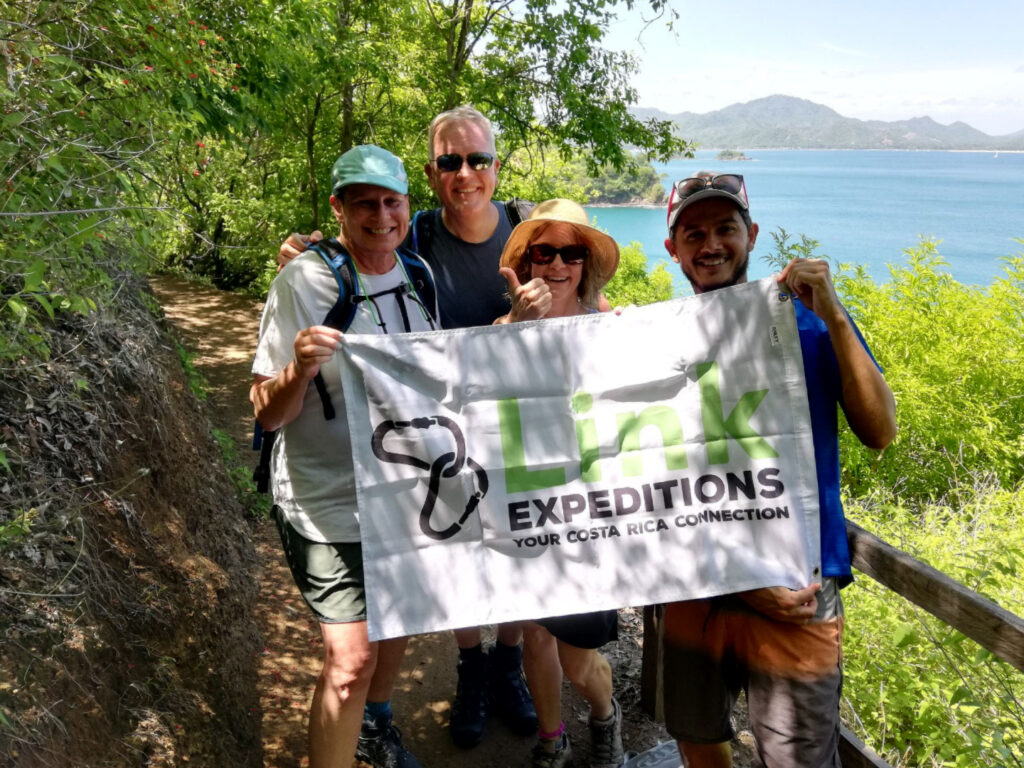 Welcome to Link Expeditions — Your Dedicated and Trustworthy Travel Advisor
As local nature enthusiasts, we specialize in sustainable travel and personalized journeys tailored for responsible travelers like you, who seek to explore and preserve the natural wonders of our planet. Our expertise not only provides professional guidance on popular destinations like Arenal Volcano and Manuel Antonio National Park but also leads you to authentic off-the-beaten-path places like San Gerardo and La Unión, most managed by local communities.
Our Commitment to Sustainable Travel
We believe in travel as a force for good, promoting ecotourism through carefully crafted itineraries. By choosing us, you not only enjoy the best of Costa Rica but also contribute to the well-being of rural communities and the rich culture and biodiversity that define them.
Crafting Every Detail With You in Mind
Embark on a Costa Rican journey tailored to your exact preferences and requirements. Picture stress-free travel facilitated by our reliable, handpicked transportation options, exclusively designed for your itinerary to ensure convenience and hassle-free experiences. Get personalized activity recommendations tailored to your taste, ensuring a truly memorable travel experience. Our true distinction lies in providing exclusive access to lesser-known, off-the-beaten-path destinations, inviting you to discover Costa Rica's hidden gems and authentic rural communities. Unlike standard travel agencies, we curate unique experiences aligned with your preferred travel pace, where every detail is thoughtfully crafted with you in mind.
Explore the 'Naturally Giving Back' Program
If you wish to enhance your contribution to nature and rural communities while traveling, explore our 'Naturally Giving Back' program. This initiative identifies and organizes specific actions, including volunteering and donation initiatives, aimed at protecting, restoring, or preserving natural ecosystems and the species that inhabit them. Additionally, actions supporting rural communities through infrastructure development, environmental education, and ecotourism projects are available through the program.
Connect With Us and Explore More
Discover destination insights on our website and kickstart your personalized journey. Reach out to Link Expeditions directly for inquiries or to get started.
Explore destinations!
Contact us!
Our Core Mission:
To us, travel is more than just a journey; it's a transformative experience. When you choose to travel responsibly, you not only immerse in the beauty of new places and cultures but also support local communities, leaving a lasting positive imprint. At the heart of Link Expeditions, our dedication lies in restoring, preserving and protecting the enchanting natural wonders of Costa Rica. We celebrate its genuine communities and traditions through committed ecotourism and sustainable practices. With every expedition curated by us, you're assured an experience that not only showcases Costa Rica's captivating beauty but also uplifts its communities and protects its precious ecosystems.
Our Founder's Journey
I want to share my story with you – a story of how I found my passion for travel and how it led me to create Link Expeditions, a company dedicated to providing exceptional experiences for nature-loving adventurers like you.
Travel has always been my escape from the routine of everyday life. It opens doors to inspiration, new knowledge, and the chance to surround myself with the two things I love a lot: nature and culture. Whenever I travel, I find myself humbled and ready to learn, grow, and make a positive impact in the communities I visit. It's during these adventures that I truly feel the happiest.
But my path to becoming a travel entrepreneur wasn't always easy. I grew up in a modest family in rural Costa Rica, where financial constraints made it difficult to explore beyond my immediate surroundings. However, my insatiable curiosity never waned. I yearned to see how people live in different parts of the world, to understand their perspectives, and to immerse myself in the beauty of exotic natural landscapes.
It was my thirst for knowledge and my determination that paved the way for my travel experiences. Through countless hours of exploring my own country and venturing into other lands, I've come to realize how fortunate I am to have been born in Costa Rica. This biodiverse country is truly a gem, and most of its people radiate warmth and happiness. After completing my college education, I embarked on a journey that took me from being an international tour guide to working in various roles within the tourism industry, including hotel concierge and ziplining tour guide, and others. Each opportunity taught me invaluable lessons and solidified my belief that travel is a gateway to personal growth, cultural understanding, and unforgettable moments worth sharing.
With Link Expeditions, I've created a platform that allows travelers like you and me, who share a deep love for nature and a desire to do the right thing and support responsible travel, to explore the world without compromising our values. I understand the struggles and frustrations you or travelers like you might have faced when trapped in "touristy activities", the uncertainty and guilt surrounding sustainable travel options, and the overwhelming feeling of choosing among numerous attractions while fearing to miss out on something truly special.
My aim is to guide you through these challenges and provide you with an experience that exceeds your expectations. At Link Expeditions, we blend our vast experience in outdoor travel across many countries in North and South America with a commitment to professionalism, meticulous attention to detail, and a genuine passion for crafting exceptional customized journeys. We'll help you connect with nature, immerse yourself in the local culture, and create cherished memories alongside your loved ones. You can rely on our expertise and personalized guidance to design a tailor-made itinerary that aligns with your interests and preferences.
I invite you to reach out to me or my team at hello@linkexpeditions.com or via WhatsApp at +506 83207994. Additionally, for a modest investment, you can schedule a video call by clicking here. Let us embark on this adventure together, allowing you to safely explore the wonders of Costa Rica. Allow me and my team to share the best of my country and provide you with a travel experience that leaves you feeling inspired, fulfilled, and confident in your choices.
Sincerely,
Alberto Salas
Owner & Travel Expert
Link Expeditions, Costa Rica
Experience True Costa Rica with Link Expeditions!
Every journey with Link Expeditions paints a story of adventure, local connections, nature's wonders, and lasting positive impacts.
Text us now!